Retro Sneakers | Vintage sneakers | Casual sneakers For Sales
Sort by
Featured

Best selling

Alphabetically, A-Z

Alphabetically, Z-A

Price, low to high

Price, high to low

Date, old to new

Date, new to old
Classics never go out of style
Welcome to our retro sneakers and vintage sneakers classification page,
where we showcase our latest collection of sneakers that evoke nostalgia from the past.
At Hector Maden, we believe in creating fashion rather than following it.
True style is about wearing what you like, not what is in trend.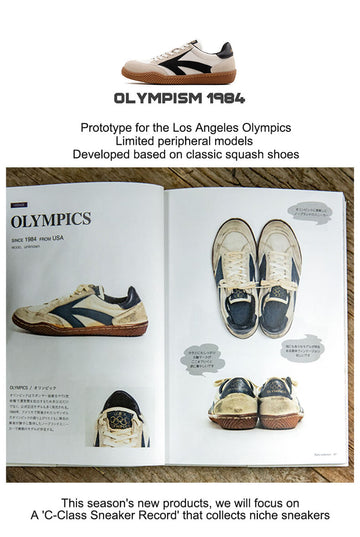 Return to the classics
Retro Sneakers
Our retro sneakers are inspired by the iconic designs of the 80s and 90s, featuring vibrant colors, bold patterns, and chunky silhouettes. These sneakers are perfect for those who love to make a statement and stand out from the crowd. Our retro collection includes the popular "OLYMPISM 1984", German Amry Trainer Soccer Sneaker, and KT-26 Running Shoes
Vintage Sneakers
For those who prefer a more classic and refined look, our vintage sneaker collection is perfect.
These sneakers are inspired by the timeless designs of the 50s and 60s and feature minimalist yet elegant details. Our vintage collection includes the popular SILVER WING Suede Retro Brown Jogging Shoes, Augusta Suede Casual Jogging Shoes, and 1960s Mesh British Military Jogging Sneaker
Unique vintage elements
All our sneakers are designed in-house by our team of passionate and talented designers who pay attention to the smallest
details to ensure our sneakers stand out in the market. Our retro and vintage
sneakers are made from high-quality materials, making them comfortable to wear
and durable enough to last for years.
At Hector Maden, we take pride in our commitment to sustainability. Our sneakers are made using eco-friendly
materials, and we ensure that our manufacturing processes are ethical and responsible.
Hector Maden
Classic Retro Sneakers
We offer a wide range of sizes, so you can find the perfect fit for you. Our sneakers are suitable for any occasion, from casual outings to sporty activities. Whether you're looking for a new pair of sneakers to add to your collection or want to make a statement with a bold new
pair, we've got you covered.
In conclusion, our retro and vintage sneakers collection is the perfect blend of style and comfort. We believe in creating fashion that is timeless and enduring, and we're proud of the sneakers we've designed. So why wait? Browse our collection today and find the perfect
pair of sneakers that suit your style and personality.