City Hunter Oxford Shoes For Man
translation missing: en.products.product.price.regular_price
$188.00
translation missing: en.products.product.price.sale_price
$188.00
translation missing: en.products.product.price.regular_price
$218.00
Tax included.
# NOTE: Order Confirmation Reply #
After you complete the order, you will receive an order confirmation email, please reply in time, we will process the order faster and better.
Please trust me, it's worth the wait!
Product description
Why do new boots need a break-in period?
Shipping and Return
City Hunter Oxford Shoes For Man Parts:
100% Leather
Casual Leather for street outfits
Comfortable?shoetree design
Wear-resistant outsole
Oxford shoes were all born at Oxford University! Actually Oxford shoes had their first appearance on campus in the form of a half-boot called the Oxonian, which was extremely popular in the 1800s.

Unlike most other shoes and items of menswear, the Oxford shoe is unique due to its principal defining characteristic:
the lacing system. Sometimes people use the term Oxford to denote any style of lace-up dress shoes, including Derbies and Bluchers.

But this time we need to make some different modifications to make it conform to both historical elements and daily dressing styles.

We have integrated some modern fashion elements and Improved the insoe to make it more comfortable. At the same time. we also choose high-quality leather. The designer said that this pair of shoes is the best pair to match his Selvedge jeans.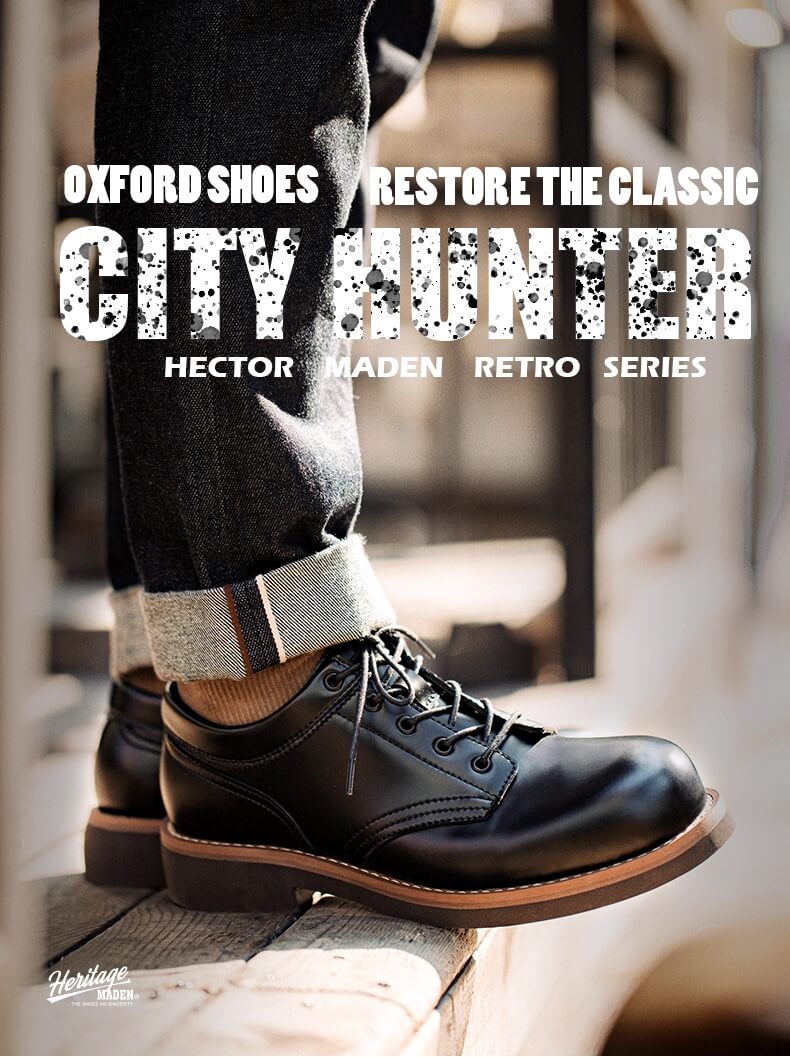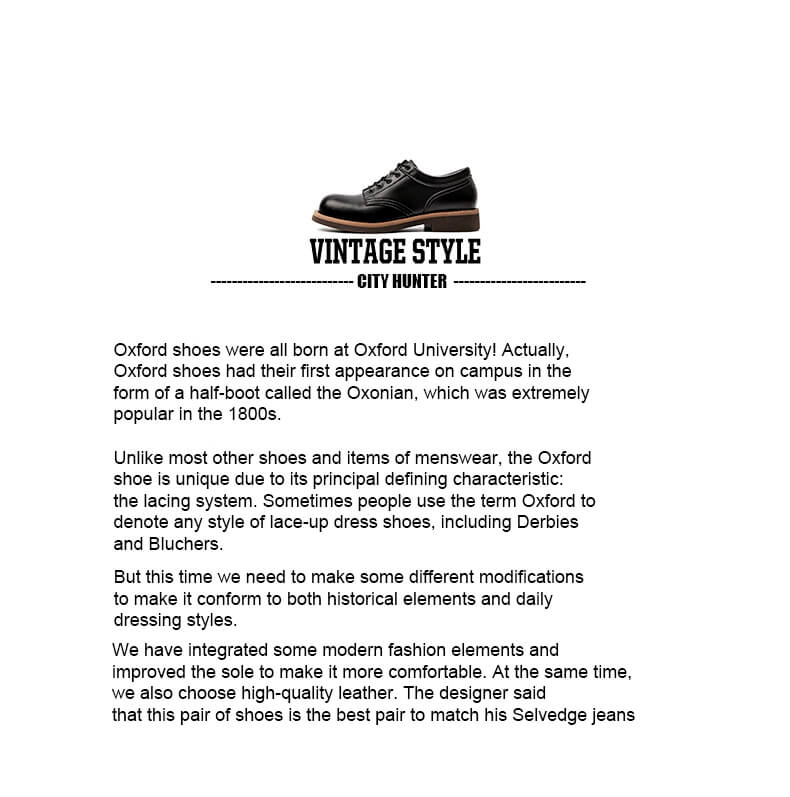 Why you have chosen the correct size,but it still doesn't fit the foot.
Because the uppers of the boots are 100% leather, and the leather is thicker. There may be pressing your instep, this is normal.
After about 2 weeks of break-in, the upper will change with the shape of your foot and will become softer.
To know more about boots, please refer to the article
Most countries are free shipping. We have warehouses in North America,Europe and Hongkong. And generally deliver goods from the nearest warehouse. We will send the products in about three days.
Most of the products in the world will be received in 7-12 days. Some cities will be a little late because of the delivery company, but they will also be received in 20 days.
Delay Compensation:
We will compensate customers with cash coupons for shipping delays in transportation due to unexpected circumstances.

From the date of placing order, if the product are not in delivered state in tracking website within 14 working days (excluding weekends), we will provide a delay compensation of 20$ .You can use it unconditionally for your next purchase.
We want you to be 100% satisfied with your purchase. Items can be returned or exchanged within 30 days of delivery.Do not tear off the tag.
For more return details, please refer to the Return Policy
Tag @theunclehector in your Instagram photos for a chance to be featured here.Find more inspiration on our Instagram:theunclehector.
Post your UncleHector Shoes on Ins
They were on the money
Boots are remaking in nicely. Wore them at home on the weekend for about 4-5 ours each day. Had them loosely tied. Wore them last Monday all day and then every other the rest of the week. Fit very comfortably now and I am sure they will only get better!
Durable and so pretty
True classics! Can't find a better boot at this price!
Last your lifetime!
So I love uncle hector. If you are looking to spend this kind of money on boots, you've probably done some research. I love the rough and tough leather I have onlther pair of boots from unclehector in this same leather.
My big tip is drop up 1 or 0.5 to your true size
Example Nike I have 9.5 in these boots I have and 8.5.
Also these need time to break in wear 3 pairs of socks for 3 week, two for two weeks, Plus super soft insole,after that they should be just fine. These boots will last you a lifetime.
Perfect
These are wonderful boots! First, I ordered a full size smaller than I normally wear. I'm very glad that I did because now that they have gotten somewhat worn in they have stretched to fit my feet perfectly. I highly recommend conditioning these boots thoroughly before ever wearing them out. I used the Huberds boots Oil on mine and love it. Be warned! They take a minimum of 2 weeks to break in! It's not fun, but it's worth it in the end for such a tough boot.
AMAZING!
My first pair of work boots were the Timberland Brand. They were very comfortable to wear but very heavy and so I tripped all the time. So I decided to buy these uncle-hector. What a difference. They were about $240 less expensive and very light weight and much easier to tie. I pulled out my Timberland Pro Anti-Fatigue insoles from my old boots and now they are even more comfortable. My feet are so happy each and everyday I wear them. My feet no longer hurt after a long day. I recommend these 100%