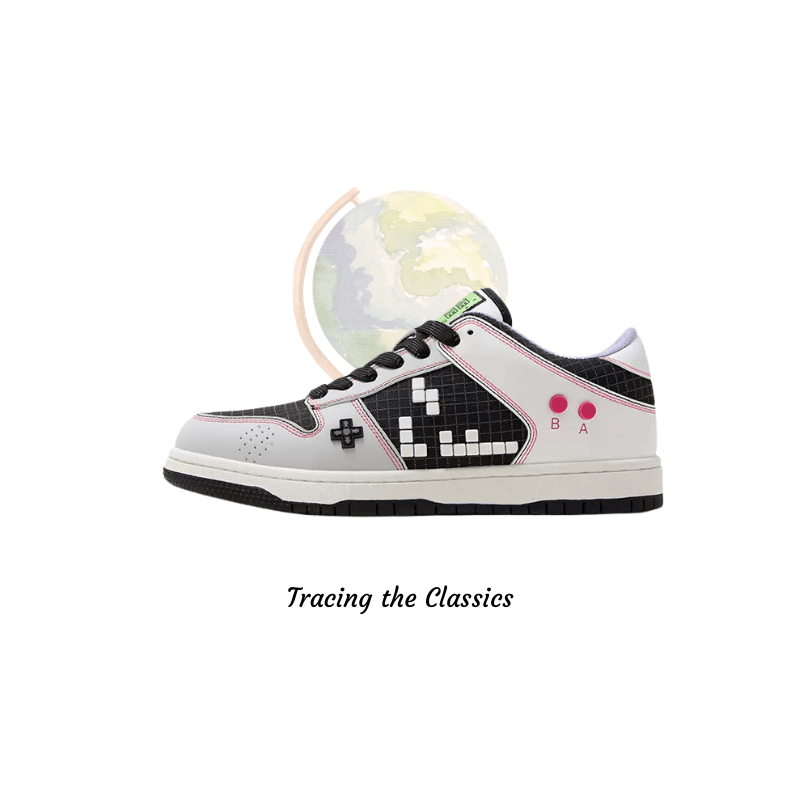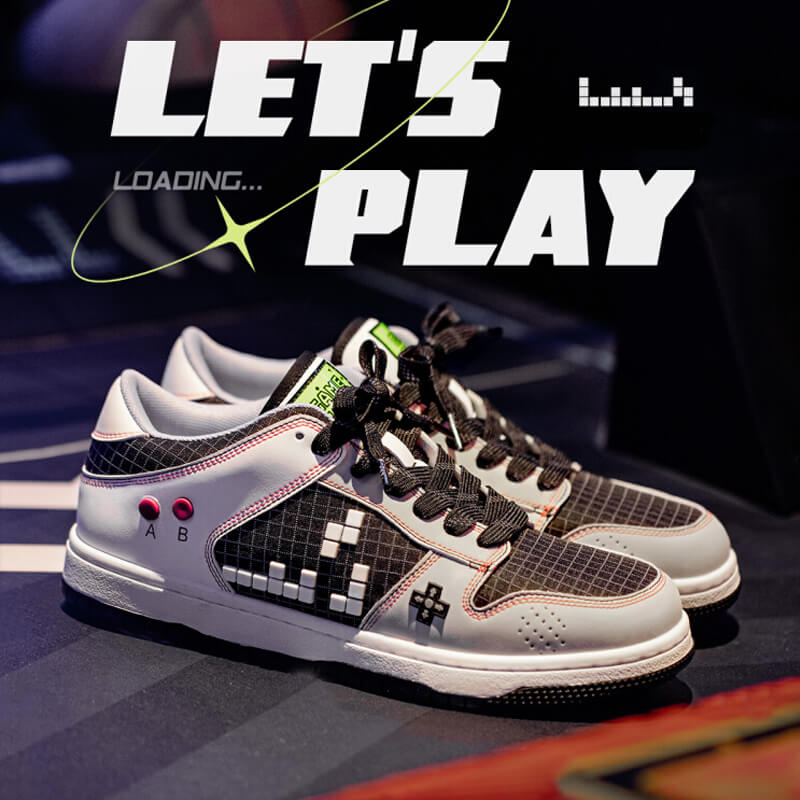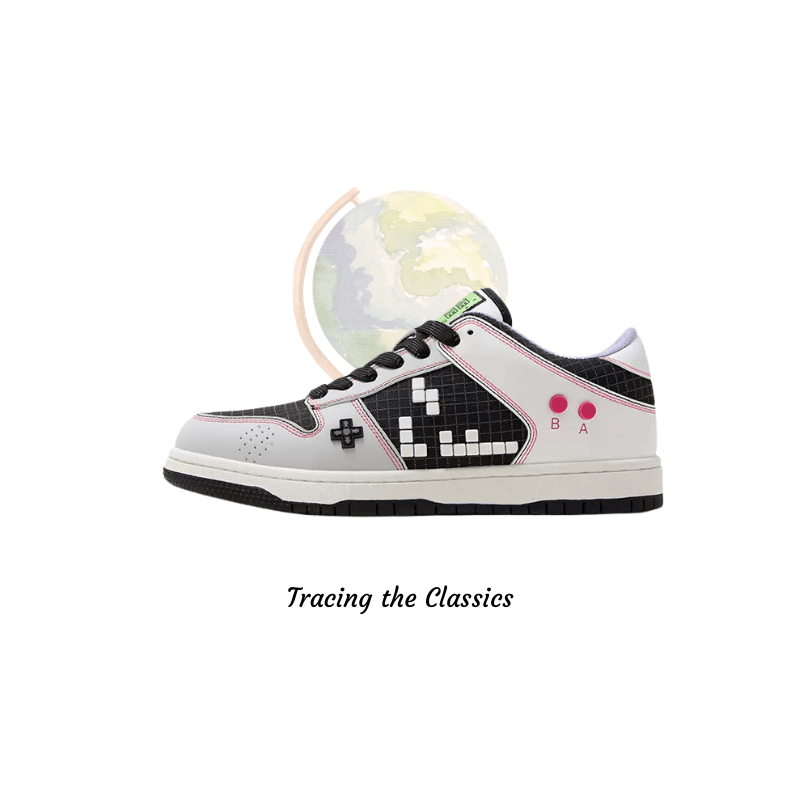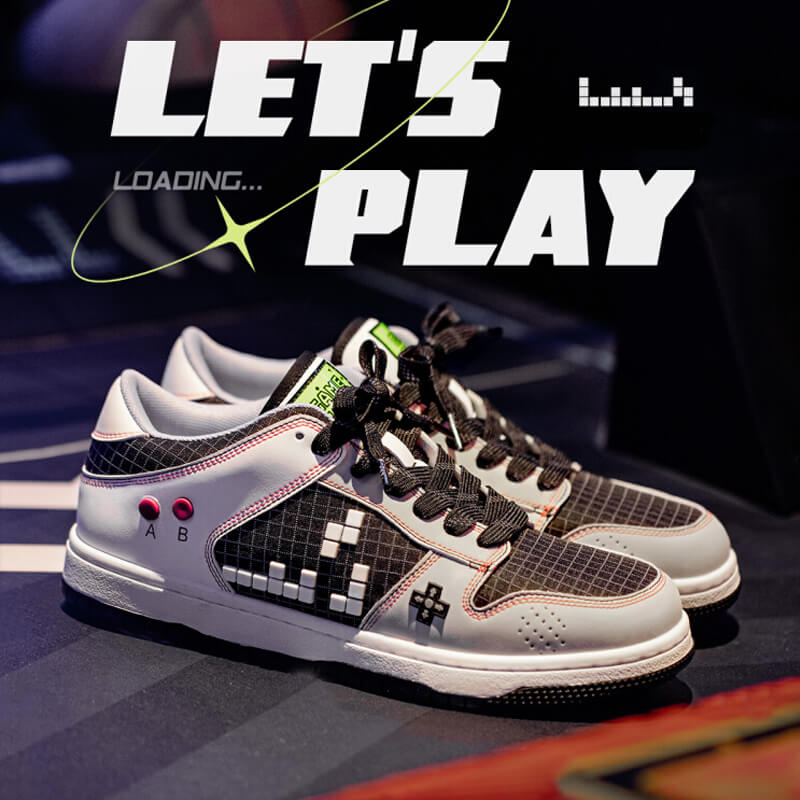 Designer Skate Shoes | Designer Sneakers | Stylish sneakers-"Game Boy"
Translation missing: en.products.product.price.regular_price
$155.00
Translation missing: en.products.product.price.sale_price
$155.00
Translation missing: en.products.product.price.regular_price
$175.00
Translation missing: en.products.product.price.unit_price
Tax included.
# NOTE: Order Confirmation Reply #
After you complete the order, you will receive an order confirmation email, please reply in time, we will process the order faster and better
Designer Skate Shoes | Designer Sneakers | Stylish sneakers-"Game Boy"
Product description
Shipping & Return
Introducing "Game Boy" Designer Skate Shoes: A Nostalgic Blend of Style and Functionality

Step into the world of retro gaming with our latest creation, the "Game Boy" designer skate shoes. Drawing inspiration from classic skateboard shoes, these white kicks are a perfect blend of style and comfort.

Taking cues from the iconic Game Boy console, the shoe features a vibrant fluorescent nylon mesh fabric on the upper and side panels. The black fabric is adorned with white grid lines, reminiscent of the game interface. Not only does it exude a trendy aesthetic, but it also ensures breathability and a skin-friendly feel.

The white grid lines on the shoe accurately depict the famous Tetris game, with small cuboid blocks crafted from three-dimensional droplet molding material, paying homage to the timeless puzzle. It's a nostalgic nod to the beloved gaming era of the 80s.

Adding a touch of sophistication, the shoe tongue boasts a TPU logo in a shimmering green square shape, featuring the words "Game Zone." This detail captures the essence of the Game Boy console and its immersive gaming experience.

On the side, you'll find the iconic direction keys and AB buttons of the Game Boy, meticulously crafted with three-dimensional droplet molding. Additionally, the shoe cleverly incorporates speaker holes, completing the authentic retro gaming aesthetic.

The "Game Boy" skate shoes not only celebrate the cherished memories of the 80s but also pay tribute to the originality of Hector Maden's design. It brings a distinctive and avant-garde flair to the world of skate shoes, combining the worlds of gaming and fashion seamlessly.

Embodying the collective nostalgia of the 80s, these shoes aptly carry the name "Game Boy." With its unique and eye-catching design, it emphasizes the fusion of the iconic Game Boy console and stylish skate shoes.

Experience the perfect blend of nostalgia, design, and functionality with the "Game Boy" designer skate shoes. Step into the game and make a statement on and off the board.

Most countries are free shipping. Except South America. We have warehouses in North America and Europe, and generally deliver goods from the nearest warehouse. We will send the products in about three days.
Most of the products in the world will be received in 7-12 days. Some cities will be a little late because of the delivery company, but they will also be received in 20 days.
Delay Compensation:
We will compensate customers with cash coupons for shipping delays in transportation due to unexpected circumstances.

From the date of placing order, if the product are not in delivered state in tracking website within 14 working days (excluding weekends), we will provide a delay compensation of 20$ .You can use it unconditionally for your next purchase.
We want you to be 100% satisfied with your purchase. Items can be returned or exchanged within 30 days of delivery.Do not tear off the tag.
For more return details, please refer to the Return Policy
Tag @theunclehector in your Instagram photos for a chance to be featured here.Find more inspiration on our Instagram:theunclehector.
Post your UncleHector Shoes on Ins
Game Boy Sneakers: A Must-Have for Sneaker Collectors
Calling all sneaker collectors! The Game Boy Sneakers are a must-have addition to your collection. The unique design, limited availability, and attention to detail make them highly sought after. These sneakers are a true collector's item and a testament to your love for sneakers and gaming culture.
High-Quality Materials and Craftsmanship
The Designer Skate Shoes are crafted with high-quality materials and impeccable craftsmanship. The attention to detail is evident in every aspect of these sneakers. From the stitching to the branding, they exude luxury and style. These shoes are built to last, providing durability and longevity.
Elevate Your Sneaker Game with Game Boy Sneakers
Elevate your sneaker game with the Game Boy Sneakers. The iconic design and attention to detail make them a standout choice.
Fashion-forward Footwear for Trendsetters
Make a fashion statement with these fashion-forward Designer Skate Shoes. The sleek design and attention to detail set them apart from other sneakers. Whether dressed up or down, these shoes add a touch of sophistication to any outfit. Stay ahead of the trends with these stylish kicks.
Designer Skate Shoes That Exceed Expectations
These sneakers are not only stylish but also built to last. Highly recommend for anyone looking for designer sneakers that deliver on both style and durability.
Blog posts
Step Up Your Style Game: Embracing the Fashionable Trend of Retro Sneakers and Vintage Boots