"Discover the captivating world of men's retro sneakers in 2023 with HECTOR MADEN's iconic collection. From classic designs to innovative twists, these retro sneakers redefine retro fashion with their blend of timeless nostalgia and contemporary style. Explore the perfect combination of comfort, craftsmanship, and self-expression as you step into a realm where tradition meets innovation."
In the ever-evolving world of fashion, there is a timeless appeal to the charm and nostalgia of retro sneakers. As we delve into the exciting trends of 2023, it becomes evident that men's retro sneakers have taken the fashion scene by storm, effortlessly blending classic designs with contemporary styles. Among the notable brands leading this trend is HECTOR MADEN, renowned for their impeccable craftsmanship and attention to detail. With an unwavering dedication to honoring the essence of retro culture, HECTOR MADEN's collection of men's retro sneakers captures the spirit of the past while embracing the modern aesthetic. Let us embark on a journey through the resurgence of men's retro sneakers and explore the cultural significance and fashion-forward allure that sets HECTOR MADEN apart.
The resurgence of men's retro sneakers is deeply intertwined with the cultural revival that has captivated fashion enthusiasts around the globe. As we embrace the nostalgia of bygone eras, there is a collective yearning for authenticity and a desire to pay homage to the icons of the past. Retro sneakers serve as a sartorial time capsule, embodying the essence of cultural movements that have left an indelible mark on history.

From the streets of New York to the vibrant neighborhoods of Tokyo and the fashion-forward cities of Europe, sneaker culture has transcended its athletic origins to become a symbol of self-expression and individuality. Retro sneakers, with their iconic designs and storied histories, hold a magnetic appeal that resonates with fashion aficionados and sneaker enthusiasts alike. The allure lies not only in their aesthetic appeal but also in the stories they carry—the moments of sporting triumphs, the cultural milestones, and the music and art movements that shaped generations.
People are drawn to retro sneakers because they offer a tangible connection to the past, evoking a sense of nostalgia and a yearning for simpler times. These sneakers act as a bridge between generations, bringing together individuals who share a common appreciation for heritage and authenticity. Whether it's the timeless silhouette of a classic basketball sneaker or the retro colorways that transport us to a specific era, retro sneakers have become an integral part of contemporary fashion, serving as a canvas for personal style and a reflection of cultural identity.
Within this dynamic landscape, HECTOR MADEN has emerged as a trailblazer, meticulously curating a collection of men's retro sneakers that seamlessly blend tradition and innovation. With each design paying homage to the iconic styles of the past, HECTOR MADEN captures the essence of retro culture while infusing a modern sensibility. From the meticulous selection of premium materials to the impeccable craftsmanship, each pair of HECTOR MADEN retro sneakers embodies the brand's commitment to quality, style, and the celebration of sneaker culture.
How HECTOR MADEN transforms a traditional canvas shoe into an iconic and fashion-forward piece?
---
HECTOR MADEN has masterfully taken a beloved staple of footwear—the classic canvas shoe—and infused it with their unique vision, redefining it as a symbol of style and setting new trends. With their Miami Coastal
Low Top Canvas Sneakers
, HECTOR MADEN has elevated the traditional canvas shoe, making it a true fashion statement that captures the essence of contemporary style.
By carefully reimagining the construction and design elements of the canvas sneakers, HECTOR MADEN has created a distinctive silhouette that instantly catches the eye. The dissolving canvas material used in these sneakers is a testament to their commitment to innovation and pushing the boundaries of traditional footwear. This unique material not only enhances breathability but also ensures exceptional durability, allowing you to step with confidence and style.
The Miami Coastal Low Top Canvas Sneakers are a perfect example of HECTOR MADEN's attention to detail and commitment to quality. The washed denim fabric of the green upper exudes a laid-back and relaxed vibe, reminiscent of carefree beach days and coastal adventures. The vibrant orange tongue adds a playful touch, injecting a sense of fun and personality into the shoes. This fusion of classic and modern elements creates a harmonious balance that appeals to fashion enthusiasts seeking a unique and stylish footwear option.
HECTOR MADEN has not only focused on aesthetics but also prioritized comfort in the design of the Miami Coastal Retro Canvas Sneakers. The dissolving canvas material ensures enhanced breathability, keeping your feet cool and fresh even during hot summer days. The
softer EVA outsole
provides excellent cushioning and support, making these sneakers ideal for long walks or all-day wear. With their 4cm thick sole, these sneakers not only provide comfort but also subtly enhance your height, boosting your confidence and overall look.
With its distinct irregular hem-shaped sole and widened and thickened shoelaces, the Miami Coastal
Retro Canvas Sneakers
embrace unique design elements that set them apart from the ordinary. HECTOR MADEN's meticulous craftsmanship and attention to detail shine through in every aspect of these sneakers, making them a standout choice for any casual occasion. Whether you're strolling along the beach or exploring the city streets, these sneakers effortlessly combine style and versatility.
HECTOR MADEN has successfully transformed the traditional canvas shoe into a signature piece that redefines fashion norms. With their Miami Coastal Low Top Canvas Sneakers, they have not only reinvented a classic but also set a new benchmark for style and innovation in the footwear industry. Embrace the iconic and step into the future of fashion with HECTOR MADEN's Miami Coastal Low Top Canvas Sneakers.
"How HECTOR MADEN seamlessly blends traditional craftsmanship and street culture, taking the design of high top canvas sneakers to new heights. It emphasizes individuality and cultural heritage for those who refuse to follow the crowd"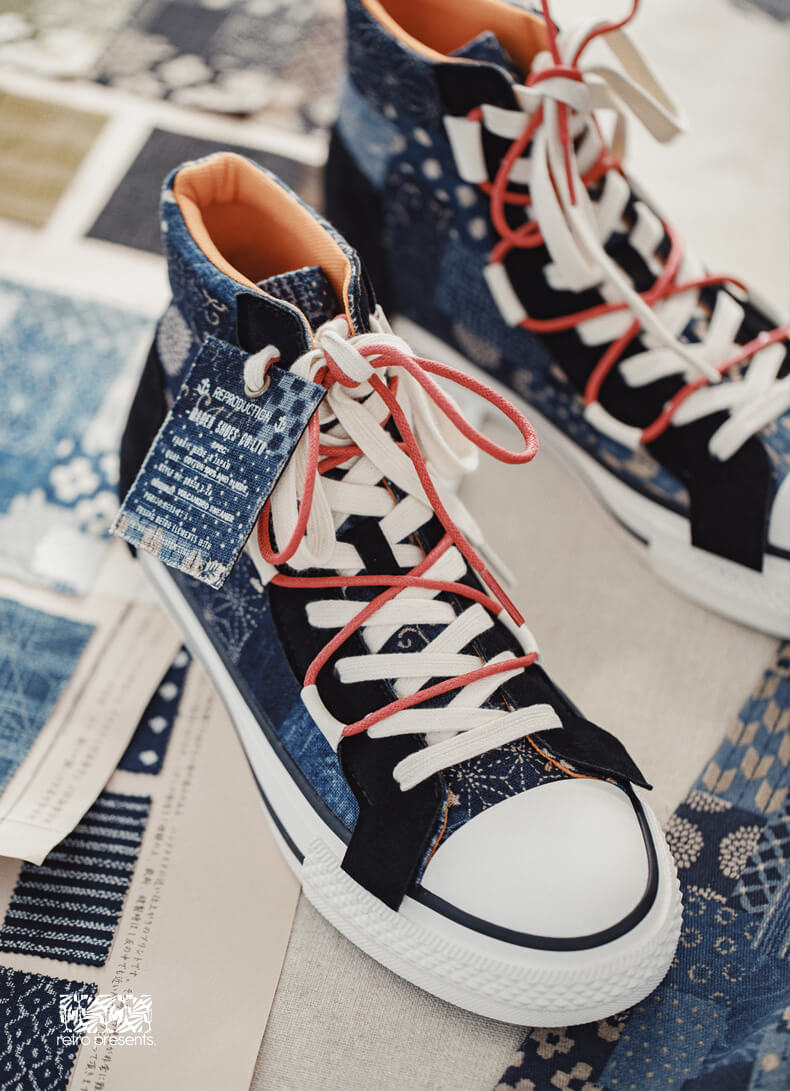 ---
For those who dare to defy conventions and seek a footwear style that breaks boundaries, HECTOR MADEN presents an extraordinary creation that merges traditional craftsmanship with street culture—the Deconstructed Retro
High Top Canvas Sneakers
- Walden. These men's retro sneakers elevate the design of ordinary high top canvas sneakers to an entirely new level, encapsulating a spirit of uniqueness and cultural legacy.
HECTOR MADEN's design team has ingeniously fused traditional craftsmanship with elements of street culture, resulting in the remarkable
Walden sneakers
. This extraordinary blend brings together the finest aspects of artisanal techniques and urban aesthetics, creating a captivating juxtaposition that defies expectations.
Embodying the essence of the brand's philosophy, Walden showcases an array of 8-10 canvas panels inspired by Boro culture, meticulously stitched together. The inclusion of suede accents at the heel and lace holes adds a touch of sophistication and durability to the design. With bold and contrasting red and white laces, these retro canvas sneakers are a statement piece that embodies the spirit of rebellion and individuality.
The inspiration behind Walden lies in the
Boro culture
, deeply rooted in the resourcefulness and creativity of farmers and fishermen in the Ani region of northern Japan. This rich heritage celebrates the art of repairing and transforming worn-out textiles into visually captivating and emotionally resonant pieces. By infusing the essence of Boro culture into the design of Walden, HECTOR MADEN pays tribute to the timeless value of traditional craftsmanship and revitalizes it for the modern world.

The Deconstructed Retro High Top Canvas Sneakers - Walden represents an ode to individuality and cultural inheritance. Its unique design and masterful craftsmanship stand as a testament to the brand's commitment to pushing boundaries and embracing authenticity. With Walden, you can confidently embrace your distinct style and assert your cultural connection, showcasing a true appreciation for the fusion of heritage and contemporary influences.

Step into the realm of HECTOR MADEN's Deconstructed Retro High Top Canvas Sneakers - Walden and unlock a world of unparalleled craftsmanship and cultural significance. These men's retro sneakers embody the spirit of nonconformity, allowing you to break away from the ordinary and embrace a footwear style that speaks volumes about your unique personality and values. With Walden, you become a torchbearer of tradition and an ambassador of your own distinctive fashion statement.

Choose Walden as your companion and embark on a journey that celebrates the perfect blend of traditional craftsmanship and street culture. Let your footwear be a testament to your individuality, cultural heritage, and unwavering commitment to stand out from the crowd. Join the ranks of those who refuse to conform and be a part of the HECTOR MADEN legacy.

Indulge in the extraordinary allure of Walden today and experience the transformative power of merging tradition and street culture in an exceptional high top canvas sneaker.
Breaking Boundaries: HECTOR MADEN Redefines Skateboarding Fashion in 2023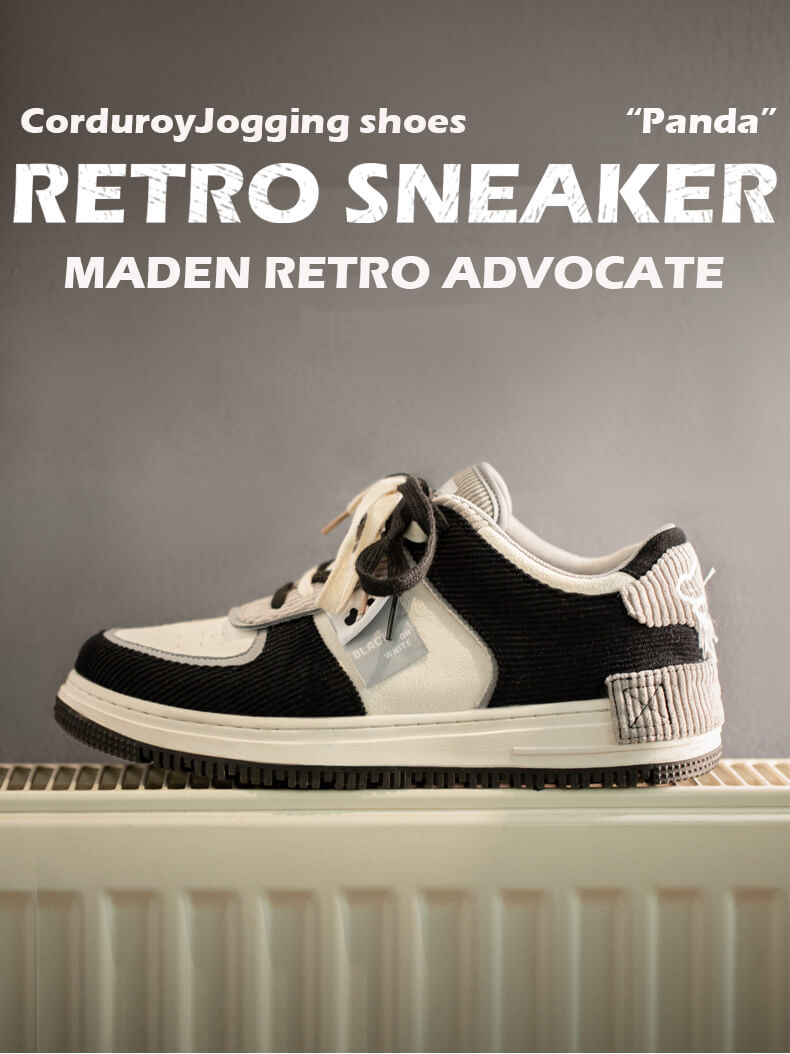 In the ever-evolving world of skateboarding fashion, HECTOR MADEN embarks on an exploration of innovation and style in 2023. With the introduction of their low top black and white sneakers "Panda," HECTOR MADEN showcases their commitment to pushing the boundaries of design and creating unique footwear that stands out from the crowd.
In a realm where iconic designs like the Nike Dunk reign supreme, breaking new ground is no easy task. However, HECTOR MADEN takes a fresh approach by focusing on the materials used in the construction of their sneakers. They boldly choose corduroy, a non-traditional fabric for skateboarding shoes, and incorporate intricate embroidery techniques. This unconventional combination of materials and craftsmanship redefines the understanding of fashion.
The low top black and white "Panda" sneakers are a testament to HECTOR MADEN's dedication to creating one-of-a-kind retro skate shoes. The composite leather and synthetic leather upper, along with the corduroy detailing, add a touch of sophistication to the classic black and white colorway. The embroidered panda logo showcases a vintage-inspired style that adds personality and uniqueness to your wardrobe.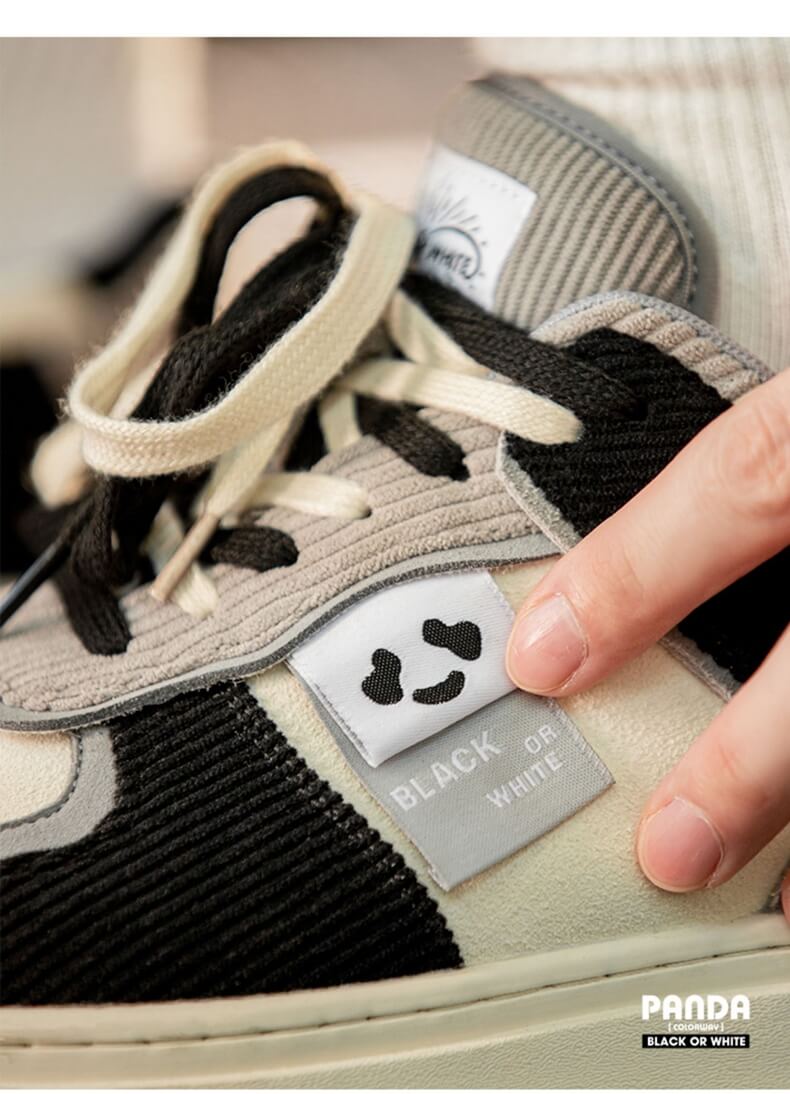 But it's not just about aesthetics. HECTOR MADEN ensures that these sneakers are designed for maximum comfort and durability. The padded, low-cut collar provides optimal support, allowing you to wear these shoes all day without any discomfort. Whether you're cruising on your skateboard or simply going about your daily activities, these sneakers are the perfect choice for any casual occasion.
Don't miss the opportunity to add these trendy and distinctive sneakers to your collection. Step out in style and make a statement with HECTOR MADEN's low top black and white "Panda" retro sneakers. Embrace their unconventional approach to skateboarding fashion and experience the fusion of classic design and innovative materials.
In conclusion, the world of men's retro sneakers in 2023 is a captivating blend of timeless nostalgia and contemporary innovation. HECTOR MADEN stands at the forefront of this movement, continuously pushing boundaries and redefining the concept of retro footwear. From the Miami Coastal Low Top Canvas Sneakers' casual and relaxed vibe to the deconstructed elegance of the Walden high tops, and the bold fusion of tradition. HECTOR MADEN showcases a diverse range of designs that cater to every individual's style.

As we embark on this exciting journey into the realm of men's retro sneakers, let HECTOR MADEN be your guide. Experience the perfect marriage of vintage aesthetics and modern sensibilities, where comfort meets style, and tradition meets innovation. Step into a world of self-expression and individuality, where each pair of sneakers tells a unique story. Elevate your footwear game with HECTOR MADEN's collection and become a part of the ever-evolving legacy of men's retro sneakers.