[Editor's Note: The following is an exclusive article written by Style Chronicles, showcasing the timeless appeal of retro sneakers and highlighting hector maden's C-Class Retro Sneakers For Men "OLYMPISM 1984" alongside other iconic designs.]
Step into a world of classic cool as we explore the captivating allure of retro sneakers. In a fashion landscape that constantly evolves, these vintage-inspired kicks have effortlessly transcended time, becoming an enduring symbol of style and individuality. Among the plethora of brands that celebrate this trend, hector maden stands out with their remarkable collection of C-Class Retro Sneakers For Men "OLYMPISM 1984" and other iconic designs. These vintage sneakers for men not only pay homage to the past but also bring a fresh and contemporary twist, making them a must-have for any fashion enthusiast.

Retro sneakers have become synonymous with a sense of nostalgia and an appreciation for timeless aesthetics. The hector maden brand understands this sentiment and seamlessly blends vintage charm with modern sophistication in their C-Class Retro Sneakers For Men "OLYMPISM 1984." This collection draws inspiration from the iconic athletic styles of the 1984 Olympics, capturing the spirit of athleticism and infusing it with hector maden's signature craftsmanship.
The C-Class Retro Sneakers "OLYMPISM 1984" boast a harmonious fusion of premium materials and meticulous detailing. Each pair is meticulously crafted using the finest fabrics, ensuring utmost comfort and durability. The combination of supple leather, breathable mesh, and retro color palettes exudes an aura of timeless elegance. From the iconic hector maden logo to the intricate stitching, every element of these sneakers reflects the brand's commitment to excellence.
Introducing ACE Sneakers: Unleash Your Inner Athlete in Style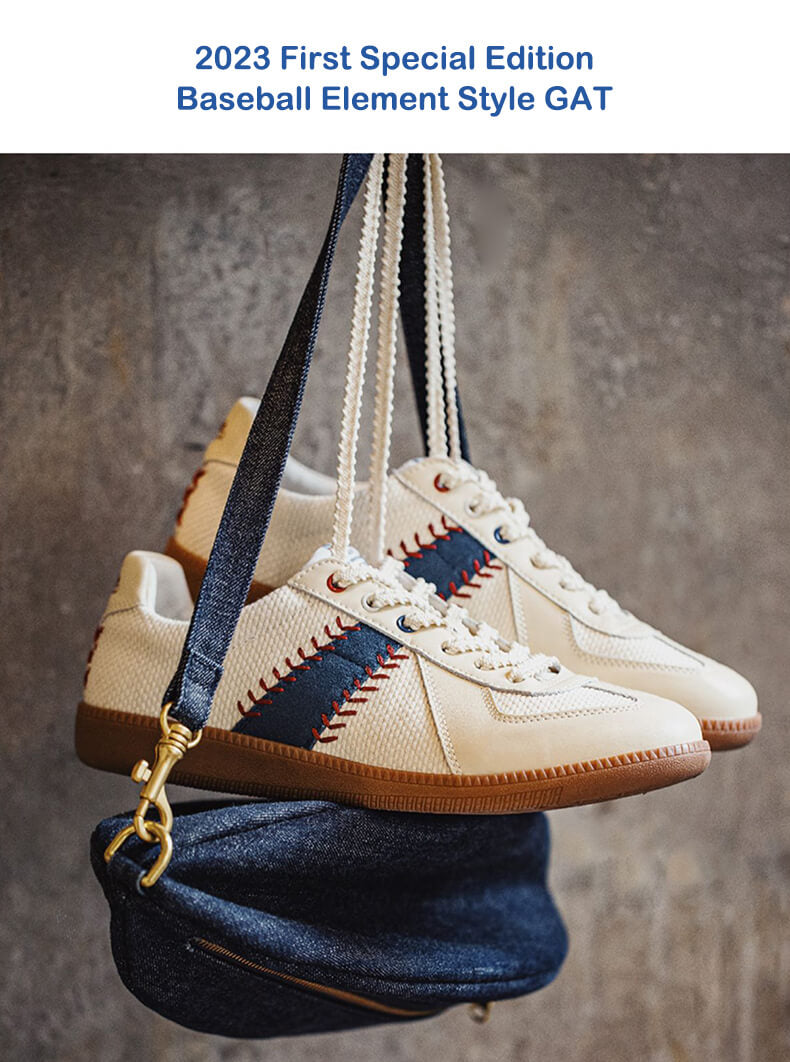 Unleash your inner athlete in style with ACE sneakers, the perfect fusion of retro and modern design. Inspired by the 1970s German Army indoor training shoes, our ACE Retro Sneakers are a stylish and functional addition to your sneaker collection. The name "ACE" derives from the term used in professional baseball to represent excellence and exceptional performance, embodying the spirit of our sneakers.

These Training shoes are a harmonious blend of the iconic design of the German Army trainer and elements from American baseball leagues. The side of the shoe features a blue trapezoid decoration, symbolizing the American baseball league, while baseball stitching secures the decorative strip in place. Additionally, the heel showcases baseball stitching with the embroidered word "facit," derived from the Latin word for "achievement."

Even the lace holes pay homage to the American baseball league logo, featuring the vibrant red, white, and blue colors. The laces themselves are meticulously crafted with a combination of thin and thick threads, exemplifying our attention to detail and craftsmanship.

The ACE Retro Sneakers boast a classic mountain-shaped retro design, incorporating a blend of suede, calfskin leather, and knitted fabric. This fusion of high-quality materials results in a luxurious look and feel, while also reflecting the higher production costs associated with their craftsmanship.

The rubber non-slip outsole of the ACE Retro Sneakers utilizes modern vulcanization technology, honoring the classic design of athletic shoes from the 1970s. This outsole not only offers durability but also provides excellent traction, making these sneakers ideal for everyday wear. Furthermore, thanks to modern production techniques, the ACE Retro Sneakers are incredibly soft, ensuring comfort for those who spend long hours standing or walking.

At Hector Maden, we take pride in our commitment to honoring design philosophies that embrace the origins and reshape classics. The ACE Retro Sneakers exemplify this approach, seamlessly blending the high-energy spirit of baseball with the street style of today.

Whether you're sporting jeans, workwear, or shorts, the ACE Retro Sneakers are perfect for everyday wear. They embody our dedication to creating innovative and stylish footwear that combines classic design with modern sensibilities. Experience the perfect combination of style and function with ACE Retro Sneakers. Elevate your style and unleash your inner athlete.
Introducing KT-26 Sneakers: Embrace the Vintage Classic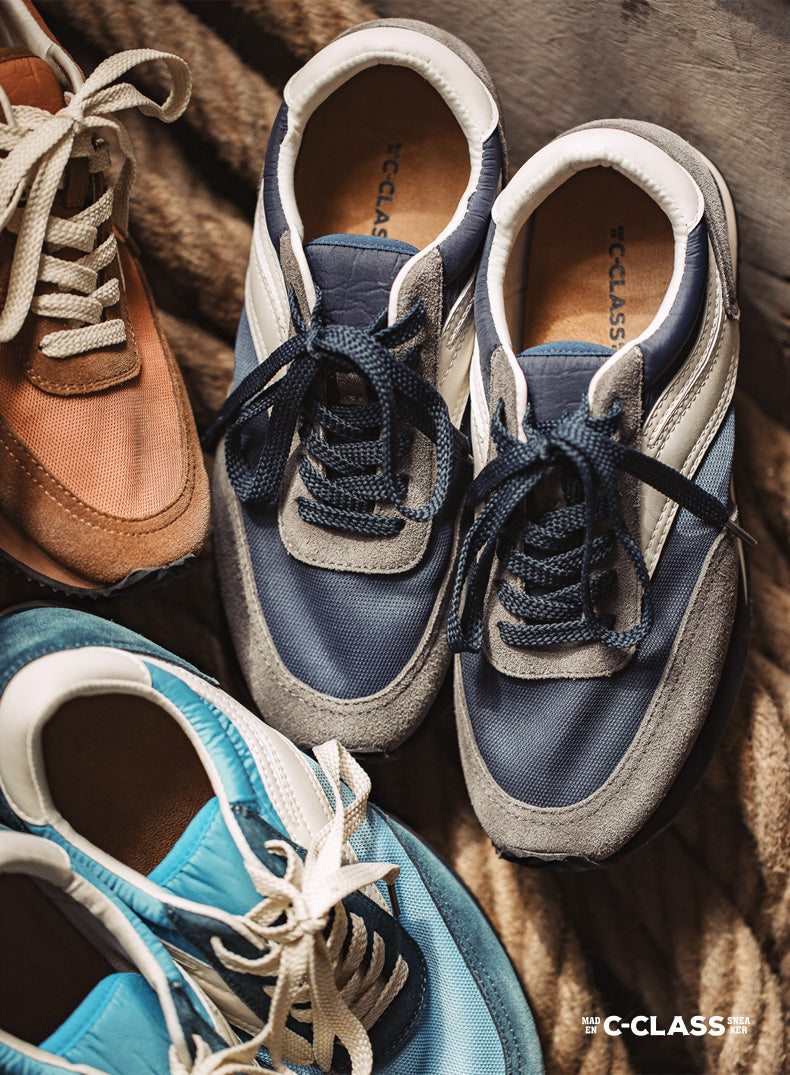 Step back in time with the OSAGA KT-26 Running Shoes, a true vintage classic that has been adored by joggers since the 1970s and 1980s. As a cherished part of the replica vintage jogging sneaker scene, these sneakers continue to captivate fans to this day. Combining retro charm with modern shoemaking techniques, the 1979 OSAGA retro sneaker ensures both comfort and professionalism, making it an excellent choice for jogging and daily wear.

Designed to preserve the original shape of the classic KT-26, these retro running shoes feature a surface material crafted from composite materials, giving them a distinct and nostalgic look. The outsole of the 1979 OSAGA retro sneaker has been enhanced to increase friction and provide improved traction, making them suitable for daily commuting.

Comfortable and breathable, the Replica Vintage jogging sneaker features a sandal lining, ensuring a pleasant experience during daily wear. With color options like brown and blue, the OSAGA KT-26 shoes cater to your diverse style needs. Embracing a classic vintage aesthetic, these shoes are a perfect match for enthusiasts who adore vintage casual footwear.

Cherished by vintage sneaker enthusiasts in Japan, the OSAGA KT-26 sneakers hold a special place as C-class sneakers due to their unique design and rarity. Whether you're an avid collector of retro jogging sneakers or simply appreciate vintage casual shoes, the OSAGA KT-26 sneakers are an impeccable choice. Make a statement wherever you go with their exceptional design and outstanding performance.

Embrace the allure of the past with KT-26 Vintage Sneakers and relish in the nostalgia of a timeless classic.
As we delve deeper into the world of retro sneakers, hector maden introduces us to an eclectic range of designs that embody both style and functionality. The Replica Vintage 1979 OSAGA KT-26 Running Shoes pay homage to the iconic running shoes of the past, reimagining them with modern materials and technologies. The result is a perfect blend of vintage charm and contemporary performance.
Tralfagar Retro Sneakers - A Timeless Tribute to British Military History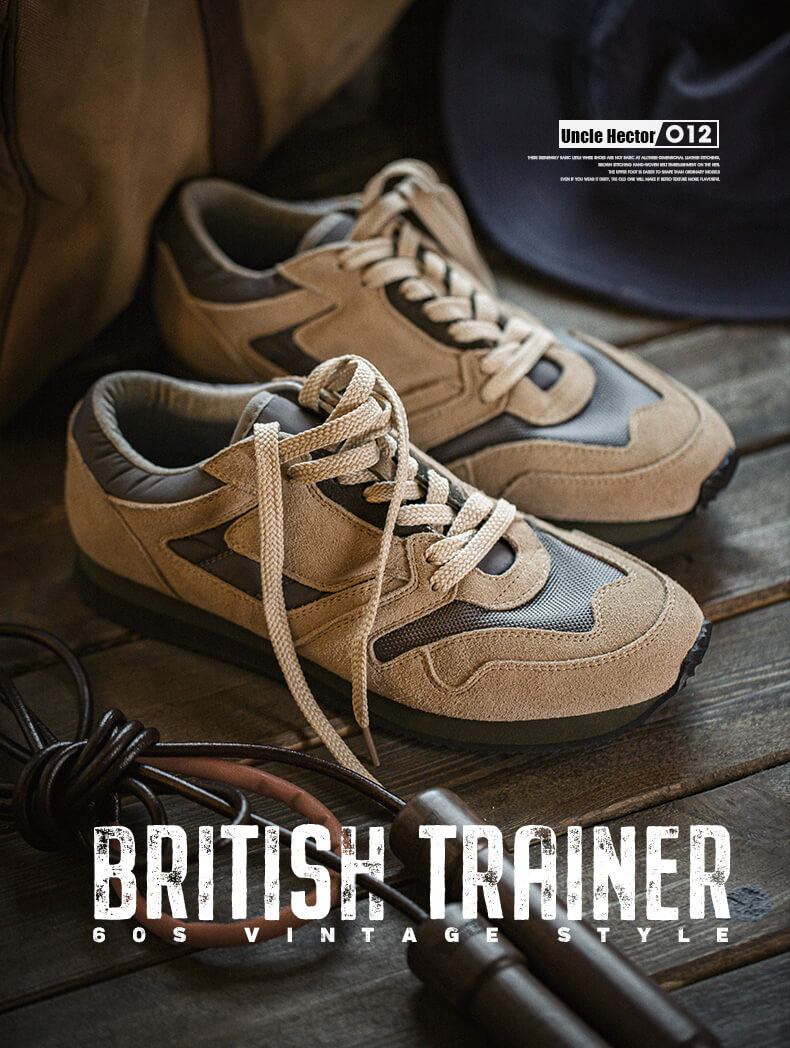 The Tralfagar Retro Sneakers are more than just a pair of shoes. They are a symbol of British pride, a tribute to the country's military history, and a testament to the enduring popularity of vintage style. The design team at Hector Maden has taken inspiration from the British Retro Sneakers worn by the British army in the 1960s, infusing them with modern techniques and aesthetics to create a shoe that is both timeless and contemporary.
Crafted from a combination of suede leather and mesh fabric, these retro sneakers offer a breathable and comfortable fit that is perfect for everyday wear. The foam midsole and wear-resistant rubber outsole provide ample support and cushioning for your feet, ensuring that you can wear Men's Retro Running Shoes for hours without feeling tired or uncomfortable.
One of the unique aspects of the Tralfagar Retro Sneakers is their minimalist design. Unlike many other sneakers on the market today, these shoes don't feature oversized logos or flashy branding. Instead, the focus is on the quality of the materials used and the texture of the shoes themselves. They are designed to look and feel like a true retro sneaker, not just a modern shoe with a retro-inspired print.
At Hector Maden, we believe that design should be about more than just logos and branding. We strive to create products that are truly timeless, that speak to the quality of the materials used and the craftsmanship that goes into making each shoe. The Tralfagar Retro Sneakers are a perfect example of this philosophy in action.
With their classic design, comfortable fit, and durable construction, the Tralfagar Retro Sneakers are sure to become a go-to shoe for anyone who values style and quality. Whether you're hitting the gym, running errands, or just hanging out with friends, these shoes will make you feel confident and comfortable all day long. Don't miss out on the chance to own a piece of British history with the Tralfagar Retro Sneakers.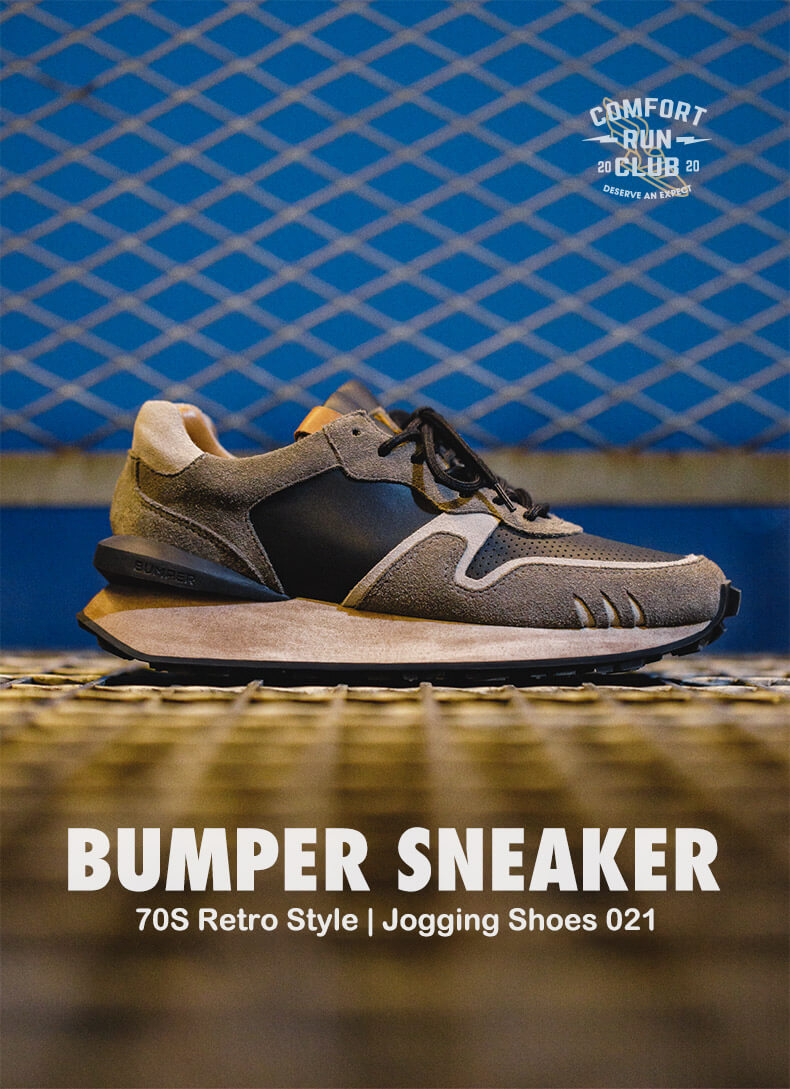 Introducing the Augusta Suede Casual Jogging Shoes - the perfect combination of style and comfort. Crafted with a variety of high-quality stitching materials and hand-painted technology, each pair is unique and designed to provide you with the utmost comfort and support during your daily activities.

Made with a soft suede and breathable mesh vamp, our retro jogging sneaker offers superior comfort and durability. Lightweight in design, each shoe weighs in at only 426g, making them the perfect choice for those who want to look good and feel great.

Featuring a durable rubber, soft EVA, and TPU sole, our Augusta Suede Casual Shoes are perfect for jogging and everyday use. The color rubbing process and retro design add an extra touch of style and sophistication, making these sneakers a must-have for any sneakerhead.

Our retro sneakers are not just designed for performance - they're also perfect for everyday wear. Pair them with your favorite casual outfit and step out in style. With their versatile design, you can wear them to the gym or while running errands around town.

Don't settle for boring, uncomfortable sneakers. Upgrade to the Augusta Suede Casual Jogging Shoes and experience the perfect blend of style and comfort. Order now and take the first step towards a healthier, happier you!
Parrot Suede Daily Wear Jogging Sneakers Description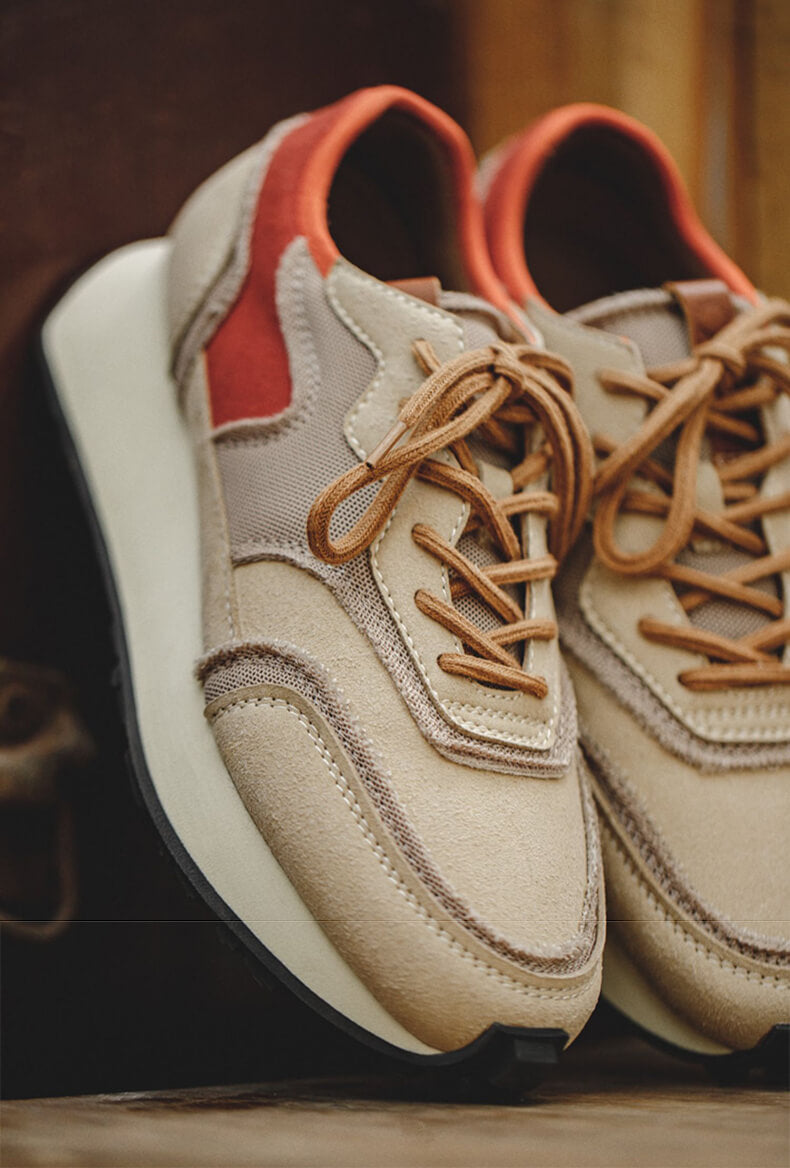 Introducing the Parrot Suede Daily Wear Jogging Sneakers - the perfect addition to your wardrobe this spring. These limited edition sneakers are crafted with attention to detail, featuring a brushed microfiber texture and a 0.5mm old edge for a vintage look. The retro sneakers are available in two colors and can be easily paired with American, Japanese, and casual styles.
The upper of daily wear jogging sneakers is made of a combination of suede and mesh stitching, providing both comfort and breathability. The aged edge design adds character and style, while the caramel tongue and retro colorblock heel add to the overall aesthetic. These classic jogging sneakers are designed to express a free and relaxed lifestyle, with brown as the main color and mesh detailing that perfectly embodies the spirit of living life to the fullest. Don't miss out on these unique and stylish sneakers - get your hands on the Parrot Suede Daily Wear Jogging Sneakers today.
Spring limited new product - Parrot Suede Daily Wear Jogging Sneakers. Full of details, brushed microfiber, 0.5mm old edge. Available in two colors, suitable for American, Japanese, and casual styles.
"The Enduring Popularity of Military-Style: Seagull Suede French Military Sneakers"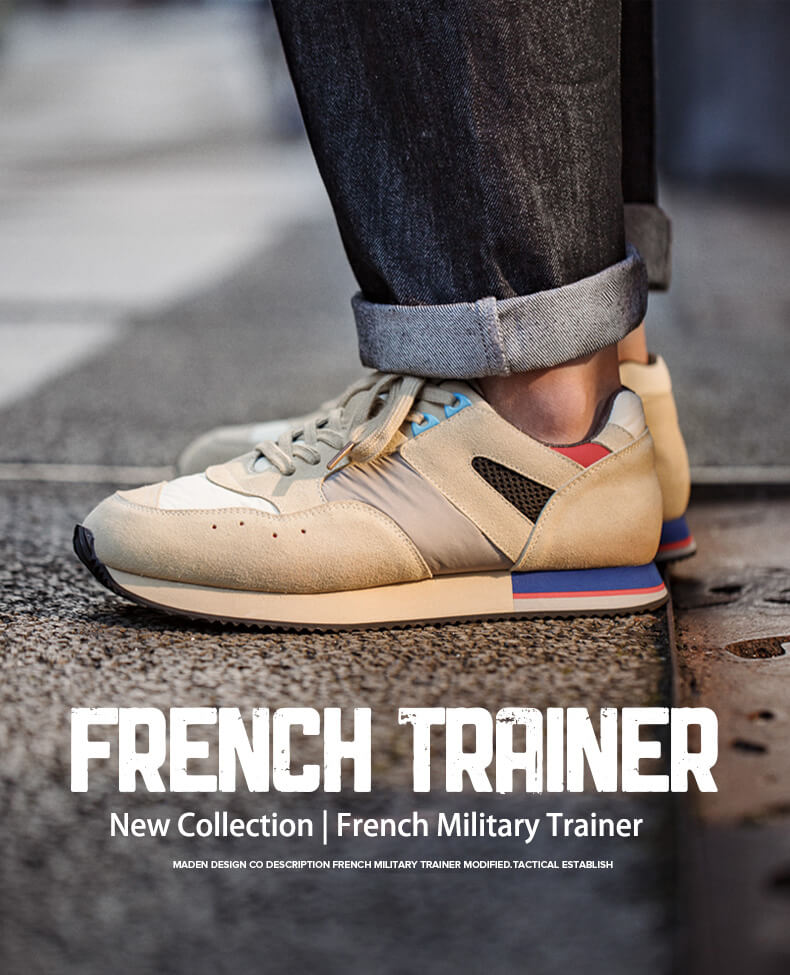 The Seagull Suede French Military Sneakers are a perfect example of the enduring popularity of military-style training shoes. With their excellent quality and classic design, these retro sneakers have become a favorite among jogging shoe enthusiasts.
These vintage style running shoes feature a retro silhouette with contrasting colors that give them a unique and eye-catching look. The upper is made of a combination of suede and umbrella cloth, which not only adds texture but also makes the retro sneakers more durable.
The wave pattern non-slip outsole provides excellent grip and stability, making them perfect for jogging or other physical activities. Additionally, the durable construction ensures that these shoes will last you a long time.
The upgrade of traditional vintage sneakers has added stylish design elements and improved the problem of hard soles, making these retro suede French military sneakers more suitable for daily wear. They are a symbol of quality and practicality and are a must-have for anyone who values both style and function.
It's worth noting that these sneakers are a point of pride for the French people, and are considered a must-have for any fashionable French person. With their unique blend of vintage style and modern functionality, the Seagull Suede French Military Sneakers are the perfect addition to any wardrobe.
The hector maden brand extends its retro-inspired offerings beyond athletic styles. The Men's Retro Running Shoes and British Retro Sneakers from the Tralfagar collection celebrate the rich heritage of British fashion, infusing it with a contemporary twist. These retro jogging sneakers effortlessly elevate any outfit, adding a touch of sophistication and retro flair. For those seeking a more casual and relaxed look, the Augusta Suede Casual Jogging Shoes and Seagull Suede French Military Sneakers offer a perfect blend of comfort and style. Their retro-inspired design elements, such as suede uppers and contrasting accents, make them an ideal choice for off-duty days and laid-back adventures.
In a world where fashion trends come and go, retro sneakers stand the test of time. They not only elevate your style but also serve as a reflection of your unique personality and fashion sensibility. Whether you're embracing the vintage-inspired designs of hector maden's C-Class Retro Sneakers For Men "OLYMPISM 1984" or exploring the brand's extensive range of retro footwear, you're sure to make a statement that captures the essence of classic cool.
Join us on this journey as we celebrate the enduring appeal of retro sneakers and explore hector maden's remarkable collection. Get ready to elevate your style, embrace nostalgia, and make a bold fashion statement that transcends time.

[Stay tuned for more exciting updates from hector maden and Style Chronicles, as we continue to explore the intersection of fashion, heritage, and individuality.]