News
Anti-Counterfeit Statement for Hector Maden Shoes
by klein Jack on Apr 06, 2023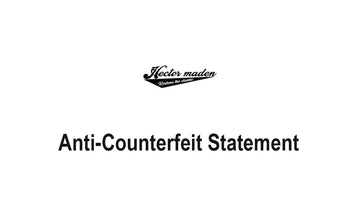 Antipiraterie-Erklärung für Hector Maden-Schuhe:
Bei Hector Maden sind wir stolz darauf, unabhängige Schuhdesigns von hoher Qualität zu kreieren, die einzigartig für unsere Marke sind. Leider haben wir kürzlich festgestellt, dass gefälschte Schuhe auf dem Markt imitiert werden, die unsere Designs nachahmen.
Wir möchten betonen, dass die einzige Möglichkeit, die Echtheit von Hector Maden-Schuhen zu garantieren, darin besteht, sie direkt von unserer offiziellen Website unter www.unclehector.com www.hectormadenshoes.com zu kaufen. Wir bieten eine echte Produktgarantie und After-Sales-Support-Richtlinien ausschließlich für unsere eigenen Schuhe.
Wir fordern unsere Kunden auf, beim Kauf von Schuhen, die wie Hector Maden-Designs aussehen, von nicht autorisierten Verkäufern oder Online-Marktplätzen Vorsicht walten zu lassen. Diese gefälschten Schuhe verletzen nicht nur unsere geistigen Eigentumsrechte, sondern können auch Sicherheitsrisiken für Verbraucher darstellen.
Als kleines, unabhängiges Schuhunternehmen aus Österreich schätzen wir Ihre Unterstützung und Loyalität zu unseren echten Designs. Vielen Dank, dass Sie sich für Hector Maden-Schuhe entschieden haben.
Hochachtungsvoll,
Das Hector Maden-Team.



At Hector Maden, we take great pride in creating high-quality, independent shoe designs that are unique to our brand. Unfortunately, we have recently become aware of counterfeit shoes on the market that imitate our designs.

We would like to emphasize that the only way to guarantee the authenticity of Hector Maden shoes is to purchase them directly from our official website at www.unclehector.com and www.hectormadenshoes.com.
We offer a genuine product guarantee and after-sales support policies exclusively for our own shoes.

We urge our customers to be cautious of purchasing shoes that appear to be Hector Maden designs from unauthorized sellers or online marketplaces. These counterfeit shoes not only violate our intellectual property rights but also may pose safety risks to consumers.

As a small, independent shoe brand from Austria, we appreciate your support and loyalty to our genuine designs. Thank you for choosing Hector Maden shoes.
Sincerely,
The Hector Maden Team.